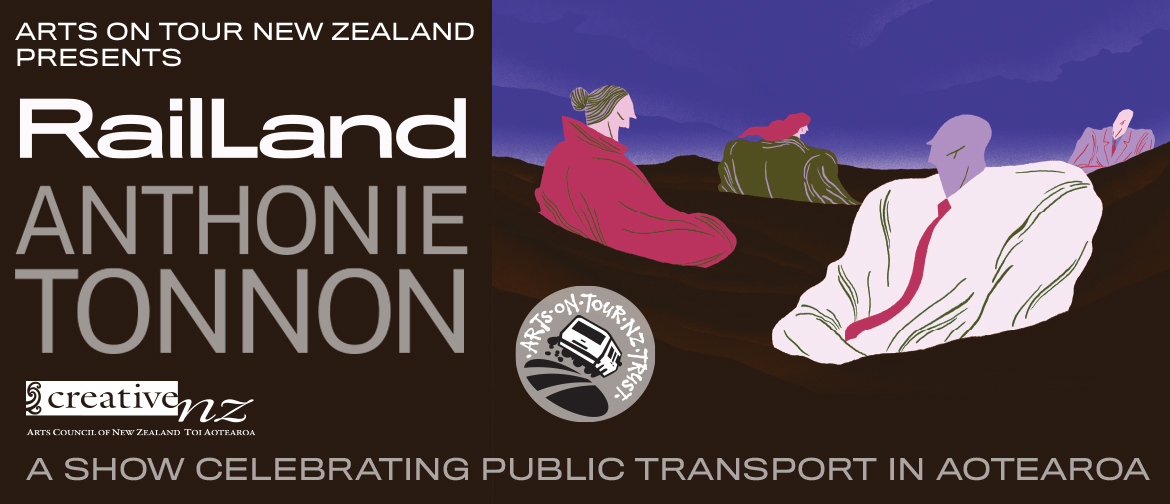 TOUR DATES FOR RAIL LAND – ANTHONIE TONNON
Sunday 1 November 3:00pm Gisborne
Te Whare Maumahara mo Nga Hoea o Te Muriwai*
$60 (show and train) Book: www.eventfinda.co.nz
* Travel to Muriwai by Vintage Train and experience Rail Land in Te Whare Maumahara. Train leaves at 3pm and returns approx. 6.45pm
AOTNZ InCahoots with Vintage Train and Te Whare Maumahara
Thursday 5 November 8:00pm New Plymouth
4th Wall Theatre
All tickets $25 Book: www.4thwalltheatre.co.nz
Friday 6 November 8:00pm Upper Hutt
Expressions Whirinaki
$20 Book: www.expressions.org.nz
Take the Hutt Valley Line to Rail Land: Departs 7:05pm from Wellington Station.
Tickets from Metlink at the station or with cash on the Train.
Saturday 7 November 7:30pm Picton
Picton Little Theatre
$20.22 + credit card fees
Book: https://www.eventfinda.co.nz/2020/anthonie-tonnons-rail-land-tour/picton
Sunday 8 November 7:30pm Christchurch
Backstage Social Club, Christchurch Arts Centre
$25 Book: https://www.artscentre.org.nz/whats-on/anthonie-tonnon-rail-land/
Take the Tram to Rail Land: Departs from The Last Word*, New Regent Street at 6:45pm. Tickets $15
*Early comers to The Last Word for a cocktail welcomed, The Last Word opens at 4pm
Monday 9 November 7:00pm Lincoln
The Laboratory, 17 West Belt (opens for dining and drinks at 5.30pm)
$20 ($25 door sales) Book: Over the bar or phone 03 3253006
Take Metro Christchurch to Rail Land: Number 80 to Lincoln from Platform C, Christchurch Bus Interchange at 5:54pm. Leaves Lincoln at 8:54pm. Pay with your Metrocard
Tuesday 10 November 7:30pm Reefton
Reefton Club
Adults $20; Student $10; Family $50 Book: Door Sales; Phone 03 7328542
Wednesday 11 November 7:30pm Hokitika
Old Lodge Theatre, 11 Revell Street
$20 Book: Hokitika's Regent Theatre
Friday 13 November 7:30pm Cromwell
Coronation Hall, Bannockburn
Adults $25; Super Gold Card $20; Children $5
Book: www.artscentral.co.nz
Saturday 14 November 7:20pm Queenstown
Arrowtown Athenaeum Hall
$25 Book: www.eventbrite.co.nz
Take Orbus Queenstown to Rail Land: Number 2 to Arrowtown from Stanley Street Bus Hub at 6:35pm, and Frankton Bus Interchange at 6:50pm. Return journey from Arrowtown at 8:55pm. Pay with your Bee Card.
Sunday 15 November 4:00pm Oamaru
Oamaru Opera House
Tickets (plus fees): $25, or $30 including train ride
Book: www.oamaruoperahouse.co.nz
Take an Ōamaru Steam Train to Rail Land: Departs Harbourside Station throughout Sunday – which is also Oamaru Victorian Fete. Discounted combined tickets for train and show available from the Opera House.
Tuesday 17 November 7:30pm Fairlie
Mackenzie Community Theatre
$20 Book: Heartlands Fairlie Resource and Info Centre
Wednesday 18 November 7:30pm Geraldine
The Lodge Theatre, Talbot Street
$25 Book: Louk Clothing, Talbot Street, Geraldine; Phone 693 9070 (No EftPos)
Thursday 19 November 6:30pm Ashburton
The Plains Railway & Historical Museum, Tinwald
$29 (includes train ride and show) Book: Ashburton Trust Event Centre
Take the Railcar to Rail Land: Departs (6.30pm) and returns to Plains Railway
Sponsored by Ashburton District Council
Saturday 21 November 8:00pm Onekaka
The Mussel Inn
$15 Presales/$20 Door
Book: www.eventfinda.co.nz plus door if any remaining
Wednesday 25 November 7:30pm Opotiki
Arts Society Hall
$20 Book: www.trybooking.com
Thursday 26 November 7:30pm Rotorua
St Barnabas Church Hall
$30 Book: Phone 07 3476275 or Door Sales
Friday 27 November 7:30pm Paeroa
Paeroa Little Theatre
$20 Book: Arkwrights Antiques and Paeroa Information Hub
Saturday 28 November 7:30pm Kauaeranga
Kauaeranga Hall
$25 Door; $22 Pre-book
Book: Txt: 021 912993 Email: kauaerangahallmusic@gmail.com
Shop: Lotus Realm, 714 Pollen St, Thames
Sunday 29 November 6:40pm Hamilton
The Meteor Theatre
$22.50 Book: www.themeteor.co.nz
Take The Comet to Rail Land: Departs from The Base/ Rotokauri Transport Hub at 5.31pm. Return journey at 8:05pm. Pay with your Bee Card.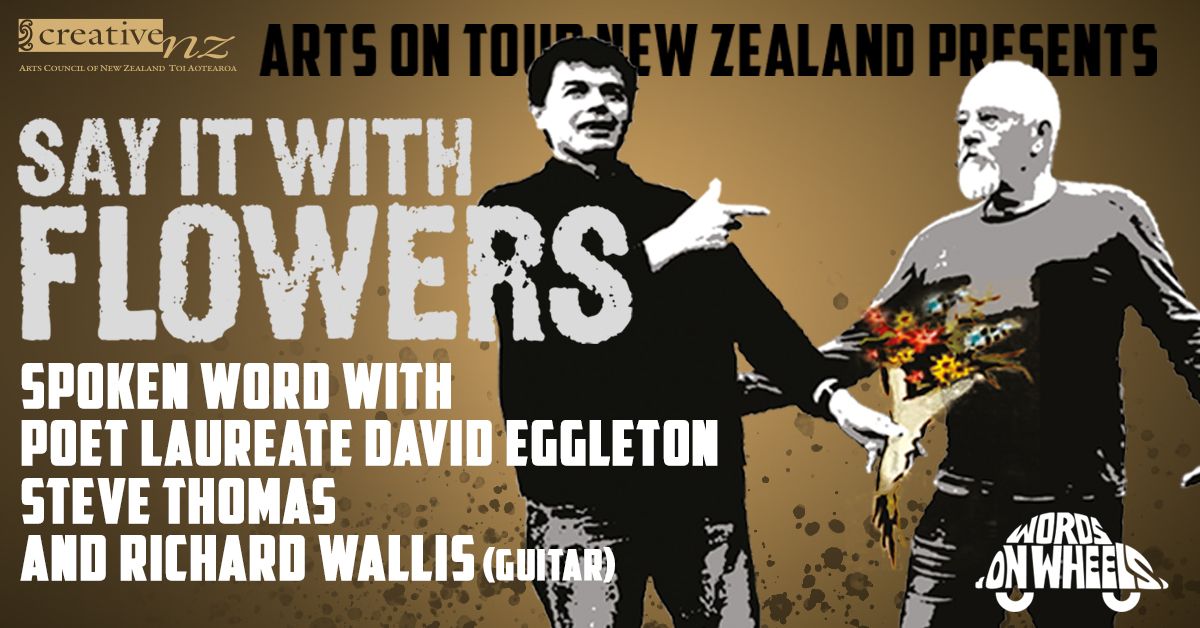 TOUR DATES FOR SAY IT WITH FLOWERS
Tuesday 3 November 7:30pm Alexandra
The Stadium Tavern, 143 Centennial Ave
$25 Adults; $20 Gold Card; $10 Children
Book: www.flowers.floktu.com Cash door sales if tickets available
Wednesday 4 November 7:30pm Cromwell
Carrick Winery, 247 Cairnmuir Road, Bannockburn
Adults $25; Super Gold Card $20; Student $5
Book: www.artscentral.co.nz
Thursday 5 November 7:00pm Queenstown
Yonder
$10 Book: www.eventfinda.co.nz
Presented by Queenstown Writers Festival and Creative Queenstown
Friday 6 November 8:00pm Gore
Eastern Southland Gallery
$15; Gallery Members & Students $10
Book: Gore Visitor Centre
Sunday 8 November 3:00pm Dunedin
Dunedin Public Art Gallery
Tickets: Free
Monday 9 November 7:30pm Fairlie
St Columba Church Hall
Free to the community compliments of the Mackenzie Community Centre
Bookings not necessary
Tuesday 10 November 7:30pm Geraldine
Geraldine Academy of Performance and Arts
$15 Book: Louk Clothing, Talbot Street, Geraldine; (03) 693 9070 (No Eftpos)
Wednesday 11 November 1pm Christchurch
The Chamber at The Piano, 156 Armagh St
$15 Cash on the door
Thursday 12 November 8:00pm Lyttelton
The Loons
$20; $15 Gold Card or Unwaged
Book: UTR
Friday 13 November 7:30pm Nelson
Quiet Dog Gallery
$15 Book: Quiet Dog Gallery
Saturday 14 November 7:30pm Picton
Picton Little Theatre
$20 + credit card fees
Book: Eventfinda.co.nz
Wednesday 18 November 7:30pm Whakatane
Gateway Theatre
$20 Book: The Good Life, The Strand
Thursday 19 November 8.00pm Cambridge
Cambridge Town Hall
$15 Book: www.eventfinda.co.nz; Te Awamutu I-Site; Cambridge I-Site
Sponsored by Backstage Pass
Friday 20 November 8:00pm New Plymouth
4th Wall Theatre
$25 Book: www.4thwalltheatre.co.nz
Saturday 21 November 8:00pm Te Awamutu
The Woolshed Theatre
$15 Book: www.eventfinda.co.nz; Te Awamutu I-Site; Cambridge I-Site
Sponsored by Backstage Pass
Sunday 22 November 2:30pm Thames
Kauaeranga Hall
$15 Door; $10 Pre-book
Book: Txt: 021912993 Email: kauaerangahallmusic@gmail.com
Shop: Lotus Realm, 714 Pollen St, Thames
Thursday 26 November 7:30pm Onekaka
The Mussel Inn
$10 Book: Tickets on the door
Friday 27 November 8:00pm Barrytown
Barrytown Hall
$20 Book: Door sales
Tuesday 1 December 7:00pm Lincoln
The Laboratory
$20 Book: At the bar or phone 03 3253006