TOURING IN OCTOBER 2021 – this tour has unfortunately been cancelled due to Covid-19
Austen Found: The Undiscovered Musicals of Jane Austen – with Penny Ashton, Lori Dungey and Jason Smith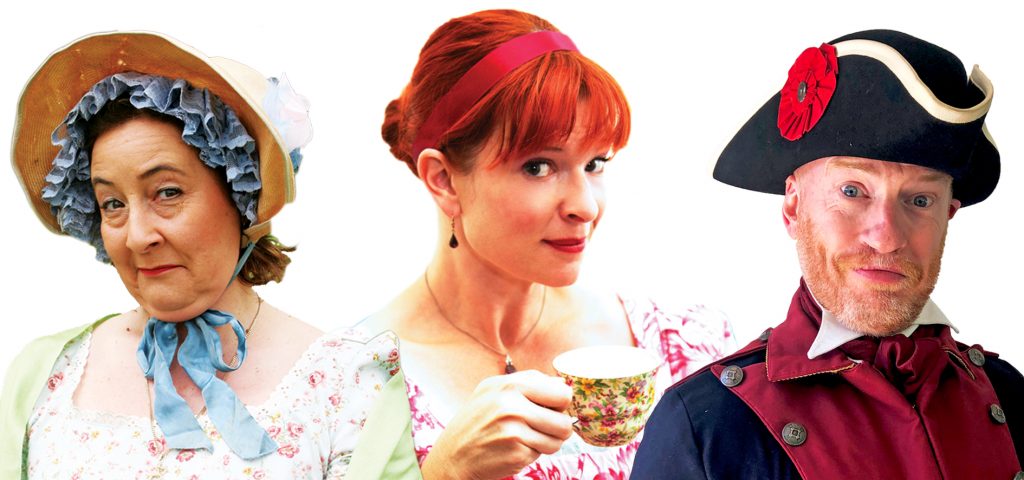 Addicted to Darcy? Bonkers for Big Balls? Lost all Sense and Sensibility? Well put down your cross stitching and get ready to enjoy an entirely improvised musical in the style of Jane Austen. You saw their videos during the COVID lockdown, now see them in person.
Arts on Tour favourite Penny Ashton (Olive Copperbottom, Promise and Promiscuity, Hot Pink Bits) is back, with her most excellently accomplished friends! World Famous hobbit Lori Dungey (LOTR, Xena) and twinkle fingers Jason Smith (Emmy award winning musical maestro and Lucy Lawless collaborator) will use your suggestions and spin instant literary magic as they swoon, romp and pianoforte.
"Jane Austen would turn in her grave with delight" Rip it Up
"Full of fun and frivolity" – NZ Herald
TOURING IN SEPTEMBER 2021 – this tour has unfortunately been cancelled due to Covid-19
I'll Tell You This for Nothing – My Mother the War Hero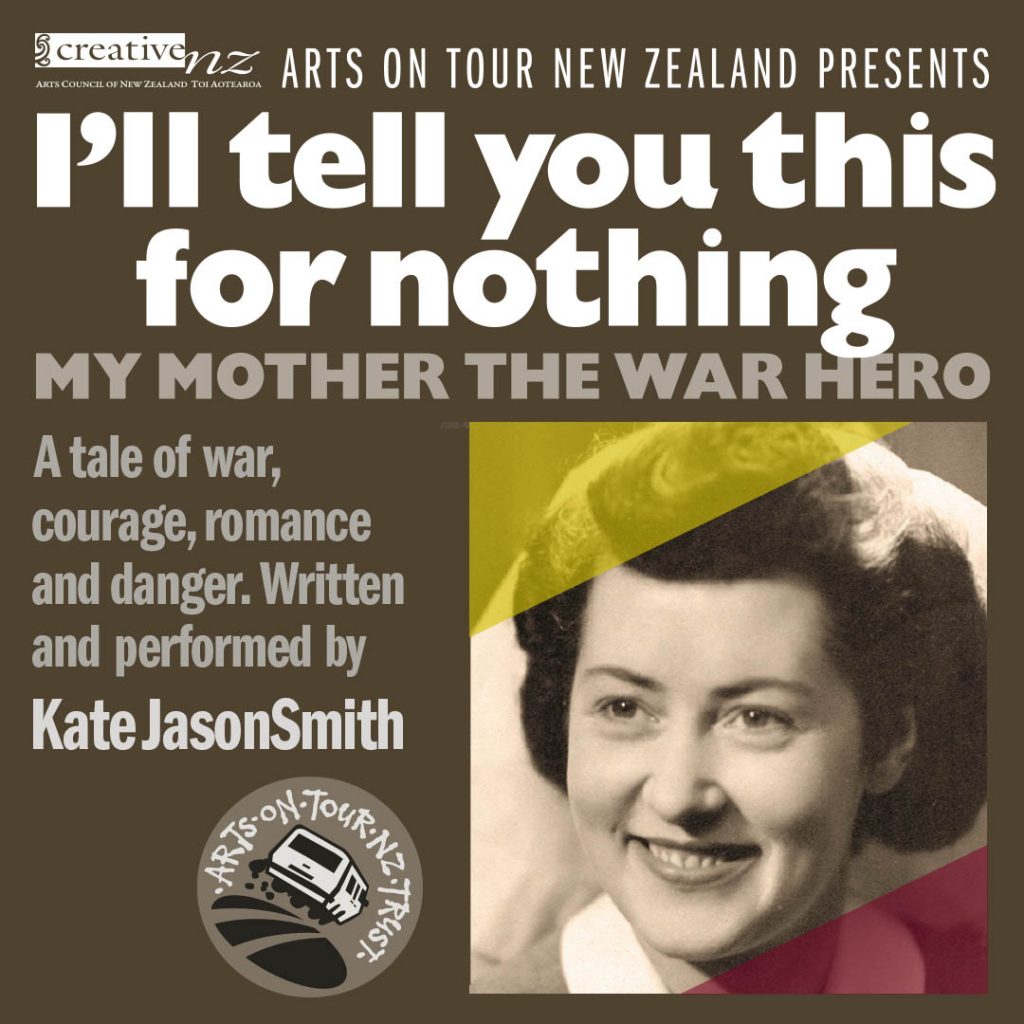 Why did France award the Legion d'Honneur – its highest accolade for exceptional courage to Phyllis, a little known Kiwi woman from Ireland?
About the play
Phyllis JasonSmith was one of only two NZ women ever to have been honoured with France's highest decoration, the Legion d'Honneur, for bravery in WWII.
And she was my mother.
We grew up on war stories of bombs screaming overhead as she and other QA nurses crawled around the hospital tent on their knees among the constant stream of wounded and dying solders "…the only light our tilly lamps, the only water a barrel outside the tent door." Not all her stories were tragic, in fact most had a lighter side, a twist, a punchline. And then there was the love story, woven through her tale like a ray of hope. Phyllis was vivacious, courageous, humorous, haunted by the war until the end of her long life.
"Here there is humour, horror, pathos and poignancy that only the very best drama can convey." Craig Cook, Adelaide Advertiser *Fringe Five Stars* BEST FEMALE SOLO.
Kate JasonSmith has spent most of her working life in theatre, film and television, as an actor, designer, director, writer and producer. Kate was the originator and producer of the highly successful Hens' Teeth Women's Comedy Company that entertained NZ audiences for over 13 years. She received an NZFTV Best Drama award for directing her film Xmas for Lou, and taught screen acting at the NZ Drama School Toi Whakaari and at the Wellington Performing Arts Centre. http://www.katejasonsmith.com
---
We are grateful to our sponsors for their continued support.


---
Arts On Tour NZ is a community-focused agency with a high level of professional expertise and a wealth of experience. We are the pre-eminent touring agency to rural and outlying centres in New Zealand. We  provide access to the performing arts for audiences in all three islands (including Stewart Island) by offering an annual selection (Menu 2022) of top-quality performers, promotional material, guidance and tour management to local presenters.
Bookings for Menu 2022 have now closed.  Thank you for your selections and your submitted Booking Form which have been received by Friday 3 September 2021.
A PDF version of our 2022 "Menu" is available for download (Menu ), however, selections are best made through our online Booking Form. We are also happy to receive applications from prospective performers through our Artist's Application Form.
---
AOTNZ is doing a wonderful job of delivering affordable quality NZ theatre into small towns. CMB's audience is rapt! ~ Creative Mercury Bay Whitianga
Michael Hurst never disappoints. It was such a pleasure and privilege to be able to host him again. His performance was superb, in fact it is hard to find words to describe how good it was, and was greatly appreciated by the audience. I have never had so many people come up to tell me how wonderful the show was. On top of this, Michael was so easy to deal with as was Jonothan his support crew. They were also most accommodating of our change of venue – WAI – Westland Arts Inc
I would just like to congratulate you on the fantastic job that you do for Arts on Tour. It is such a great service for small towns like Twizel. ~ Twizel Community Arts Council
Thanks Steve and your team for such a great variety of events. Keep up the good work.  We love this programme of events. ~ Creative Queenstown