Touring in February
Fiona Pears and
Connor Hartley-Hall
South of France
Music made famous by legendary guitarist
Django Reinhardt and French virtuoso violinist
Stéphane Grappelli.
A mix of fiery Gypsy jazz, heartwarming ballads and classics such as "Czardas" and "Sabre Dance".
Violinist Fiona Pears and guitarist Connor Hartley-Hall share a love of Gypsy jazz. This music was originally made famous by legendary guitarist Django Reinhardt and French virtuoso violinist Stéphane Grappelli, when they formed the 'Quintette du Hot Club de France' back in the 1930s.  Take a virtual trip to the South of France from the comfort of the concert.
The music Fiona and Connor will be performing in their upcoming shows will be a mix of fiery Gypsy jazz, heartwarming ballads and some well known classics such as ' Czardas ' and 'Dark Eyes'.
These shows will be exciting and dynamic; a musical experience not to be missed.
 Fiona Pears
Violinist and composer Fiona Pears, has performed and recorded internationally over the past 15 years. She has appeared everywhere from Birmingham symphony hall and the famous Ronnie Scott's Jazz club in London through to Joe's pub in New York and the very loved Donovan's store in Okarito.
Fiona has also been a soloist with the Liverpool Philharmonic, Christchurch Symphony and Trust Waikato Symphony orchestras.
Her fiery mix of Tango and Gypsy Jazz alongside soulful ballads will keep any audience on the edge of their seats.
Connor Hartley-Hall
Guitarist Connor Hartley-Hall grew up in Akaroa. As a teenager he found a passion for improvisation and over the past 10 years has been performing in a myriad of settings.
An extraordinary master of the Gypsy Jazz style played by legends such as Django Reinhardt and Biréli Lagrène. Connor has made himself a name as one of the top guitarists in the country performing this style of music.
https://fionapears.com/new-video/
https://www.13thfloor.co.nz/concert-review-fiona-pears-and-connor-hartley-hall-ospa-theatre-onewhero-14-february-2021/?fbclid=IwAR2UZDiwkMd8kl3dhRxUviblKnoActc992UzDzW5lcXjJB_5TeX0DuR8gv0
Touring in March
My Secret Life: Ian Sinclair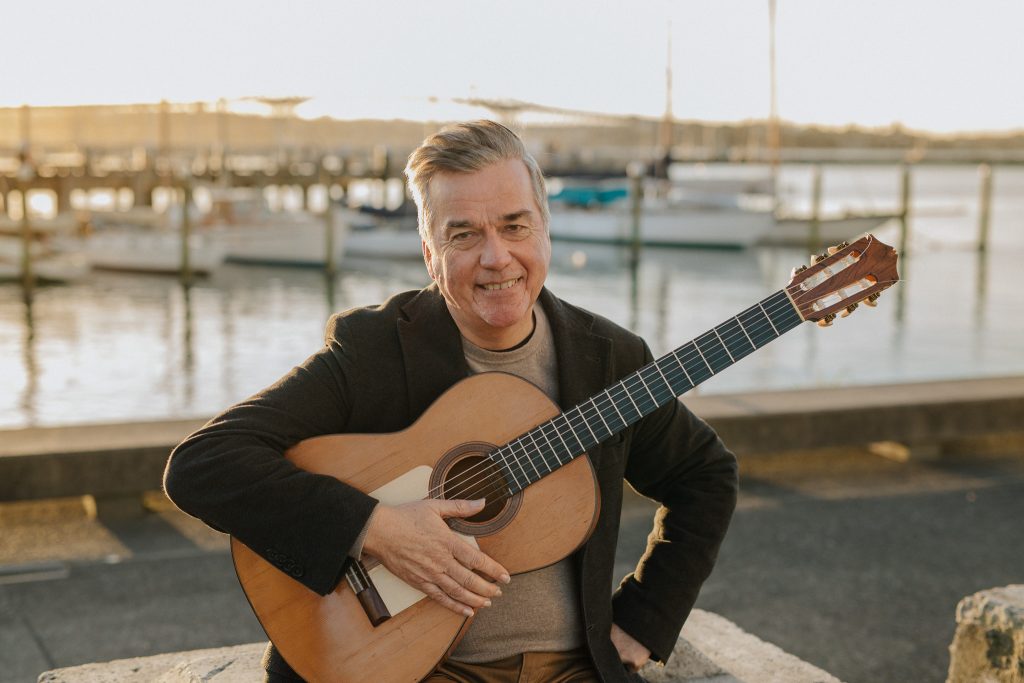 Hello. My name is Ian Sinclair. You may know me as a roving reporter with the dream TV job: a chance to explore the world and meet everyone from the Queen to the Taliban.  Ian was a former correspondent for the Sunday Programme for 14 years.
Yet few would have guessed I had a lifelong secret addiction to Spanish flamenco guitar. After nearly two thousand television stories I made a giant leap of faith… to quit and become a flamenco guitarist. In My Secret Life I demonstrate how my love of this exciting guitar music got me into journalism and how journalism inspired me to write flamenco.
Rhythm is the essence of flamenco and my music features rumbas, highly complex Bulerias and flamenco Tangos. I will be playing items inspired by stories filed from Christchurch to Afghanistan. I will also fess up to my most embarrassing moments, with General Franco's secret police, The Queen and the All Blacks.
http://www.is-facingthemusic.co.nz
ian sinclair and juan del gastor
---
We are grateful to our sponsors for their continued support.

---
Arts On Tour NZ is a community-focused agency with a high level of professional expertise and a wealth of experience. We are the pre-eminent touring agency to rural and outlying centres in New Zealand. We  provide access to the performing arts for audiences in all three islands (including Stewart Island) by offering an annual selection (Menu 2021) of top-quality performers, promotional material, guidance and tour management to local presenters.
We have closed off for taking bookings for Menu 2021 now.
A PDF version of our 2020 "Menu" is available for download, however, selections are best made through our online Booking Form. We are also happy to receive applications from prospective performers through our Artist's Application Form.
---
AOTNZ is doing a wonderful job of delivering affordable quality NZ theatre into small towns. CMB's audience is rapt! ~ Creative Mercury Bay Whitianga
Michael Hurst never disappoints. It was such a pleasure and privilege to be able to host him again. His performance was superb, in fact it is hard to find words to describe how good it was, and was greatly appreciated by the audience. I have never had so many people come up to tell me how wonderful the show was. On top of this, Michael was so easy to deal with as was Jonothan his support crew. They were also most accommodating of our change of venue – WAI – Westland Arts Inc
I would just like to congratulate you on the fantastic job that you do for Arts on Tour. It is such a great service for small towns like Twizel. ~ Twizel Community Arts Council
Thanks Steve and your team for such a great variety of events. Keep up the good work.  We love this programme of events. ~ Creative Queenstown