We  provide access to the performing arts for audiences in all three islands (including Stewart Island) by offering an annual selection (Menu 2021) of top-quality performers, promotional material, guidance and tour management to local presenters. We are currently taking bookings for Menu 2021 now – please use the booking form 2021 Booking Form
---
Touring in July and August
THE DAYLIGHT ATHEIST
Performed with bravura and gusto by Michael Hurst, one of New Zealand's foremost actors.
With comedy, pathos and charm The Daylight Atheist probes at the broken heart of a family,
and draws the audience into the truth of a profoundly tragic figure who rejects any need for tenderness or normal human intimacy.
"The writing sparkles with wit…"
"… Michael Hurst nails the part with a bravado display" ~ NZ Herald
---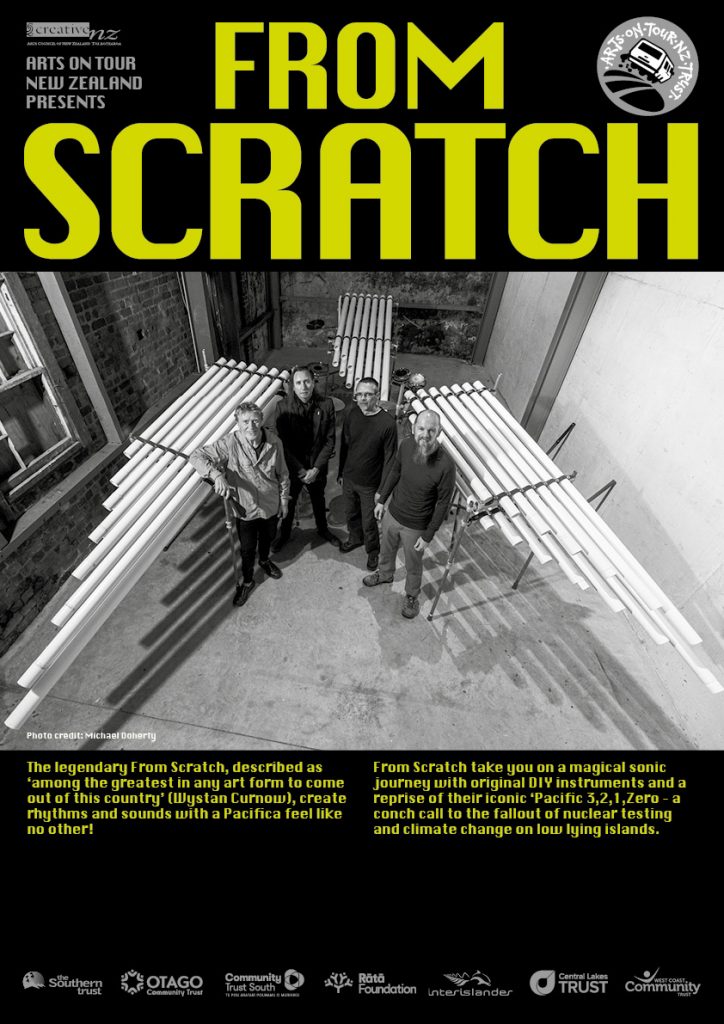 Touring in September
FROM SCRATCH
The legendary From Scratch take you on a magical sonic journey with original DIY instruments creating rhythms and sounds and an unforgettable Pacifica message for eyes and ears of all ages featuring their stunning historic work 'Pacific 3 – 2 – 1 – Zero' a conch call to the fallout of nuclear testing and climate change on low lying Pacific islands.
"…among the greatest in any art form to come out of this country" – Wystan Curnow

---
We are grateful to our sponsors for their continued support.

---
Arts On Tour NZ is a community-focused agency with a high level of professional expertise and a wealth of experience. We are the pre-eminent touring agency to rural and outlying centres in New Zealand. We  provide access to the performing arts for audiences in all three islands (including Stewart Island) by offering an annual selection (Menu 2021) of top-quality performers, promotional material, guidance and tour management to local presenters.
A PDF version of our 2020 "Menu" is available for download, however, selections are best made through our online Booking Form. We are also happy to receive applications from prospective performers through our Artist's Application Form.
---
AOTNZ is doing a wonderful job of delivering affordable quality NZ theatre into small towns. CMB's audience is rapt! ~ Creative Mercury Bay Whitianga
It so good to get performances of this calibre in our small towns. Thanks so much to you and Arts on Tour for making it happen…Overall I am really pleased about the base of support we are building and we are getting a lot of expressions of appreciation for bringing the shows to town… ~ Hokitika
I would just like to congratulate you on the fantastic job that you do for Arts on Tour. It is such a great service for small towns like Twizel. ~ Twizel Community Arts Council
Thanks Steve and your team for such a great variety of events. Keep up the good work.  We love this programme of events. ~ Creative Queenstown