We are now taking bookings for Menu 2022.  Please ensure you have made your selection and submitted the Booking Form by Friday 3 September 2021.
---
TOURING IN AUGUST 2021
Gitbox Rebellion featuring Kita Trio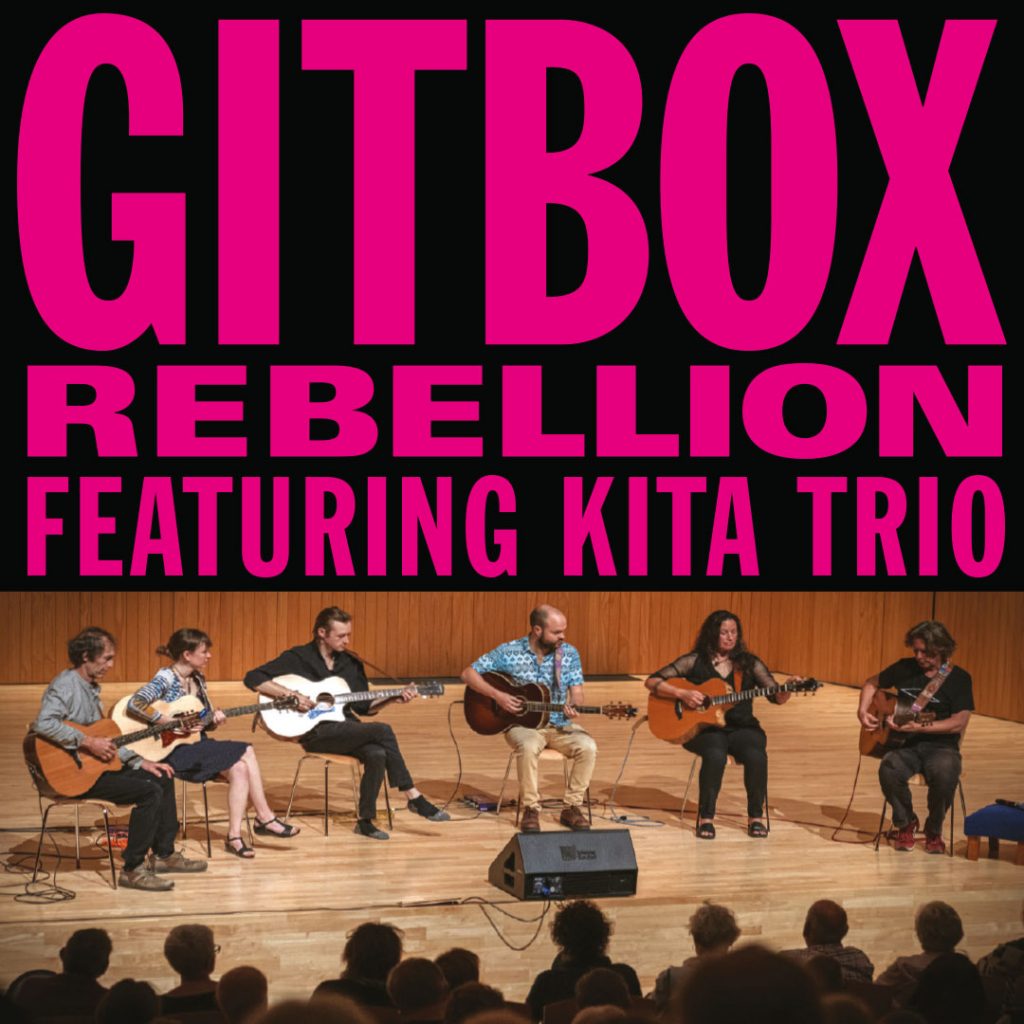 Gitbox Rebellion is an innovative and exciting 6 piece Guitar ensemble, performing  intricate and clever original compositions as well as a few much loved guitar hero covers, such as The Good, The Bad and The Ugly and Guitar Boogie… Gitbox has to be heard live to fully appreciate the acoustic guitar and the differences each player brings to the instrument.
Described as "Igor Stravinsky meets Pete Townshend," the group's music – is a joyous collision of worlds, managing to be infectiously moody, upbeat, grungy and intricately textured all at once.
Honouring the beautiful character of acoustic guitar, Gitbox Rebellion's exuberant blend of jazz, rock, folk and classical will have you in sonic raptures.  Extraordinary live, they'll have you hooked from the first fingerpick to the last.
"[They] played with a discipline and rapport that would be the envy of any classical chamber orchestra. In sum, Gitbox Rebellion provide stimulating, intelligent, and above all, approachable music."  NZ Herald
An acclaimed multi-member performance unit of uncanny ability and chemistry, Gitbox Rebellion make their guitars sound atmospheric, chaotic and orchestral – and better than you could ever imagine.
Nigel Gavin, a former member of Robert Fripp's League of Crafty Guitarists said, "Back in the mid 80's I was fascinated by the gamelan music of Bali.  The music had many levels and included beginner players with the more experienced players.  So I decided to apply that idea with all the students.  I was teaching at the School of Creative Musicianship in Mt Eden, in 1987 and some of my students, Kim Halliday, Russell Hughes and Jon Pease, original members of Gitbox Rebellion, became my guinea pigs for the first project. 
The experiment proved successful, creating special musical games and structures for the group to piece together.  The resulting sound was very harmonious, and before long concerts, tours and albums were happening.  We received a small grant which enabled us to release our first album called, "Pesky Digits", soon followed by the second release, "Touch Wood".  At this point Rattle records was created in order to release this music into the world.  Since then Rattle has gone on to receive world attention for their high quality catalogue."  
Gitbox have just released their third album for Rattle called "Curveball" which they will tour with Arts on Tour.  The show will open with the Kita Trio – Gypsy swing music from three members of the ensemble.
TOURING IN SEPTEMBER 2021
I'll Tell You This for Nothing – My Mother the War Hero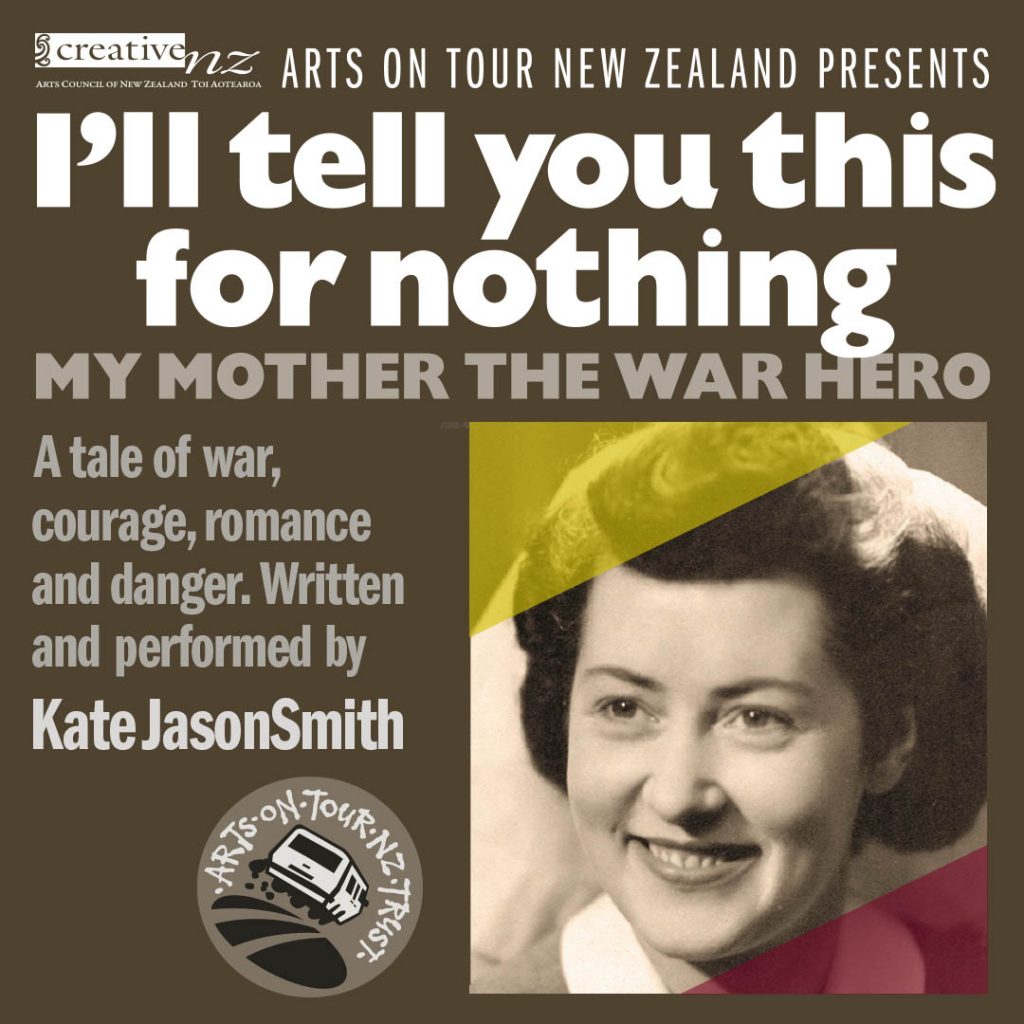 Why did France award the Legion d'Honneur – its highest accolade for exceptional courage to Phyllis, a little known Kiwi woman from Ireland?
About the play
Phyllis JasonSmith was one of only two NZ women ever to have been honoured with France's highest decoration, the Legion d'Honneur, for bravery in WWII.
And she was my mother.
We grew up on war stories of bombs screaming overhead as she and other QA nurses crawled around the hospital tent on their knees among the constant stream of wounded and dying solders "…the only light our tilly lamps, the only water a barrel outside the tent door." Not all her stories were tragic, in fact most had a lighter side, a twist, a punchline. And then there was the love story, woven through her tale like a ray of hope. Phyllis was vivacious, courageous, humorous, haunted by the war until the end of her long life.
"Here there is humour, horror, pathos and poignancy that only the very best drama can convey." Craig Cook, Adelaide Advertiser *Fringe Five Stars* BEST FEMALE SOLO.
Kate JasonSmith has spent most of her working life in theatre, film and television, as an actor, designer, director, writer and producer. Kate was the originator and producer of the highly successful Hens' Teeth Women's Comedy Company that entertained NZ audiences for over 13 years. She received an NZFTV Best Drama award for directing her film Xmas for Lou, and taught screen acting at the NZ Drama School Toi Whakaari and at the Wellington Performing Arts Centre. http://www.katejasonsmith.com
---
We are grateful to our sponsors for their continued support.

---
Arts On Tour NZ is a community-focused agency with a high level of professional expertise and a wealth of experience. We are the pre-eminent touring agency to rural and outlying centres in New Zealand. We  provide access to the performing arts for audiences in all three islands (including Stewart Island) by offering an annual selection (Menu 2022) of top-quality performers, promotional material, guidance and tour management to local presenters.
We are now taking bookings for our Menu 2022.  Please ensure you have made your selection and submitted the Booking Form by Friday 3 September 2021.
A PDF version of our 2022 "Menu" is available for download (Menu ), however, selections are best made through our online Booking Form. We are also happy to receive applications from prospective performers through our Artist's Application Form.
---
AOTNZ is doing a wonderful job of delivering affordable quality NZ theatre into small towns. CMB's audience is rapt! ~ Creative Mercury Bay Whitianga
Michael Hurst never disappoints. It was such a pleasure and privilege to be able to host him again. His performance was superb, in fact it is hard to find words to describe how good it was, and was greatly appreciated by the audience. I have never had so many people come up to tell me how wonderful the show was. On top of this, Michael was so easy to deal with as was Jonothan his support crew. They were also most accommodating of our change of venue – WAI – Westland Arts Inc
I would just like to congratulate you on the fantastic job that you do for Arts on Tour. It is such a great service for small towns like Twizel. ~ Twizel Community Arts Council
Thanks Steve and your team for such a great variety of events. Keep up the good work.  We love this programme of events. ~ Creative Queenstown