We are now taking bookings for our Menu 2022.  Please ensure you have made your selection and submitted the Booking Form by Friday 3 September 2021.
---
TOURING IN JUNE/JULY 2021
Dr Ian Chapman and the Cosmic Jive Trio present David Bowie & the Art of Being Different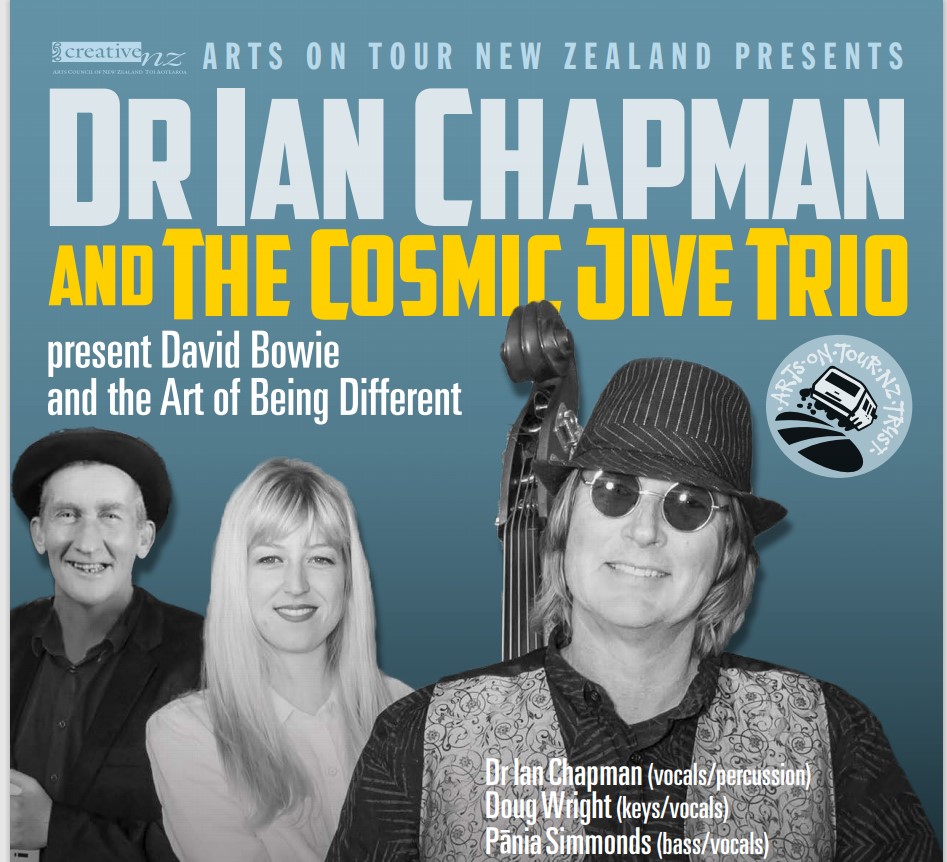 In this sparkling interactive musical performance and accompanying talk, Dr Ian Chapman and his band delight in entertaining and educating audiences on the empowerment and healing potential of music and the arts. Personally inspired by David Bowie, one of the most complex and enduring performers in the history of popular music, Dr Chapman is a musician, academic, and author of a dozen books including Experiencing David Bowie: A Listener's Companion (2015), and David Bowie FAQ (2020).
Cosmic Jive Trio brings to the stage superb acoustic arrangements of David Bowie's finest songs, arranged especially for the show. The honest simplicity of the stripped back and largely acoustic instrumentation allows Bowie's masterful song-writing to take centre stage.
David Bowie & the Art of Being Different is a wonderfully entertaining celebration of eccentric creativity, a testament to how the arts can empower, improve mental health, heal past traumas, and provide an essential blueprint for how to deal with bullying. Above all, this show is a triumphant affirmation of the power and potential of difference.
The Band
Dr Ian Chapman (vocals/percussion)
Dr Ian Chapman is a musician, author and motivational speaker. Currently co-convener of the Contemporary Music degree course at Otago University, where he has been on the Performing Arts faculty since 2002, he is a specialist in the life and work of David Bowie and has written two books on the artist along with many articles and other media outputs. In the 1980s he was a professional drummer working with artists such as Rob Guest and Billy T James. More recently he was the glittering glam rock performer Dr Glam.
Doug Wright (keys/vocals)
As a freelance musician, composer, and currently working as a performance tutor in contemporary music at the University of Otago, Doug has been a resident fixture on the Dunedin music scene for over 30 years. A founder member of iconic Dunedin bands "Rue de Remarque" and "Oxo Cubans" his keyboard skills are always in demand. Combined with writing, and arranging music for television, radio, and an array of live productions, his calendar is always busy.
Pānia Simmonds (bass/vocals)
Pānia studied music at Otago University where she specialised in bass guitar; also performing and touring with Ian Chapman's glam rock alter ego, Dr Glam. After graduating she moved to Wellington to study double bass. After a stint of teaching music at Invercargill Polytech, Pānia now lives in Dunedin once again where she teaches bass at Otago University and also has an administrative role at eCampus NZ. In addition she plays in a jazz band, a string ensemble, and for local musical theatre. She has studied electric bass with Dr Rob Burns, jazz bass with Paul Dyne, and now classical bass with Dunedin Symphony Principal bassist, Pat Dean.
TOURING IN JULY 2021
Aperture – The life and work of Ans Westra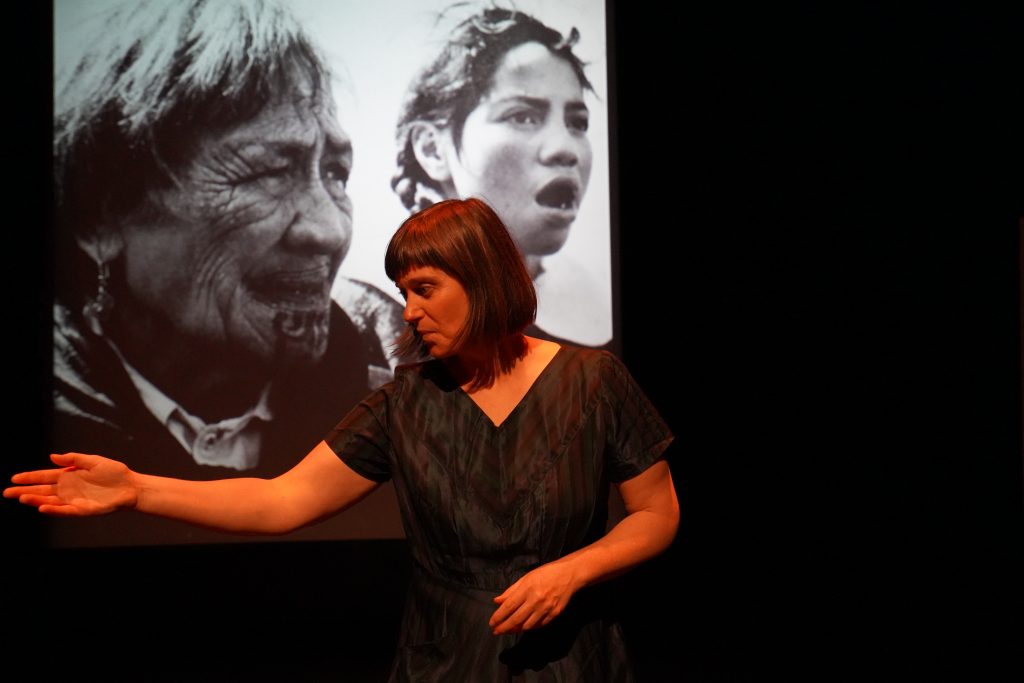 "Baanvinger beautifully captures the era, the struggles, the insights and the awakening of self.  A skillful storyteller" – M Giroux
Actor and director Martine Baanvinger, who wrote and starred in the award-winning play Solitude, returns in this creative and innovative one-woman play about Ans Westra, a NZ Arts Foundation Icon photographer.
In 1957, Ans Westra emigrated from the Netherlands to New Zealand and began to take photos of her new homeland.  Fascinated by Maori culture in particular, she created an intimate and uniquely historical documentation of Maori life which led to a successful career capturing the essence of the people of Aotearoa.
DramaLAB's visually stunning and intimate portrait focuses on Westra's childhood in The Netherlands, her immigration journey to New Zealand and the start of her photography career in the 1960's.  Her first publications, including the controversial 'Washday at the pa', offered insight into the Maori way of life in rural Aotearoa at a time of urbanisation.
Martine Baanvinger is trained at the Theatre Academy in Amsterdam.  She is the founder of DramaLAB and creates performances in a direct, transparent and intimate way.  Martine invites her audiences to enter a space of innovation and simplicity that calls in emotional involvement with the story and the actor.  The audience becomes part of the journey.  This combined with physical theatre influences leads to unique creations where both drama and comedy are often equally present.  Martine loves exploring a creative approach to lighting, sound, digital imaginary, transformation of set and costume. http://www.dramalab.co.nz/aperture/
---
We are grateful to our sponsors for their continued support.

---
Arts On Tour NZ is a community-focused agency with a high level of professional expertise and a wealth of experience. We are the pre-eminent touring agency to rural and outlying centres in New Zealand. We  provide access to the performing arts for audiences in all three islands (including Stewart Island) by offering an annual selection (Menu 2022) of top-quality performers, promotional material, guidance and tour management to local presenters.
We are now taking bookings for our Menu 2022.  Please ensure you have made your selection and submitted the Booking Form by Friday 3 September 2021.
A PDF version of our 2022 "Menu" is available for download (Menu ), however, selections are best made through our online Booking Form. We are also happy to receive applications from prospective performers through our Artist's Application Form.
---
AOTNZ is doing a wonderful job of delivering affordable quality NZ theatre into small towns. CMB's audience is rapt! ~ Creative Mercury Bay Whitianga
Michael Hurst never disappoints. It was such a pleasure and privilege to be able to host him again. His performance was superb, in fact it is hard to find words to describe how good it was, and was greatly appreciated by the audience. I have never had so many people come up to tell me how wonderful the show was. On top of this, Michael was so easy to deal with as was Jonothan his support crew. They were also most accommodating of our change of venue – WAI – Westland Arts Inc
I would just like to congratulate you on the fantastic job that you do for Arts on Tour. It is such a great service for small towns like Twizel. ~ Twizel Community Arts Council
Thanks Steve and your team for such a great variety of events. Keep up the good work.  We love this programme of events. ~ Creative Queenstown