Touring in October
HOPETOUN BROWN
"It's their pervading sense of fun together with a respect for antique jazz, blues, plantation work songs, doo wop and funk that gives Hopetoun Brown their edge" – Metro Magazine
Hopetoun Brown and the genius of Finn Scholes return to the streets, their antique wind instruments shrieking wildly. Welded to their horns at birth Tim, Nick and Finn were born to march about the nation bringing blues, stomp and soul to every corner of our shaky isles. Playing songs from their three highly regarded studio albums the boys are also releasing their first ever concert recording to coincide with a 22 date national tour: Hopetoun Brown Live at WOMAD. Thanks to the kind folks at Arts on Tour NZ you can see and hear the wonders of this show in a town near you. Expect stratospheric high notes exploding from the trumpet bell of Finn Scholes, marvel at the sweat pouring off bass clarinet player Nick Atkinson as he underpins the lyrics produced by the golden tonsils of lead singer Tim Stewart. The trio bring trombones, saxophones, tubas, tambourines, a Rhodes electric piano and a full-size concert vibraphone to the stage, which will be constantly pulsing with Stewart's legendary stomp.
They are releasing a new album on September 25th. The name of the record is: Hopetoun Brown – Live at WOMAD
View videos for Hopetoun Brown here and here
---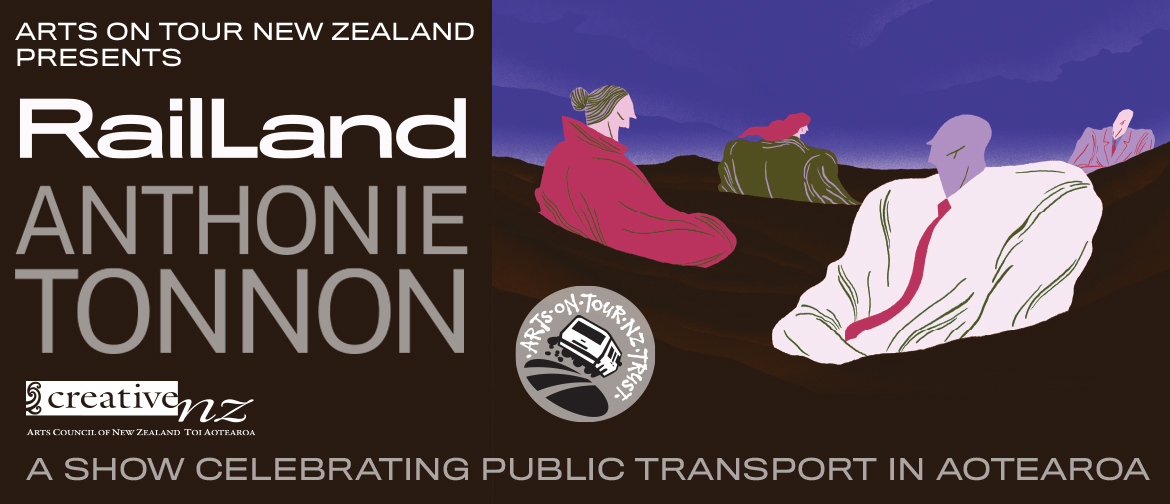 Touring in November
RAIL LAND – ANTHONIE TONNON
A journey of the mind, through song and story about New Zealand's on and off again love affair with its passenger railway system.
Equal parts tragedy, comedy, and personal memoir, Rail Land weaves the songs of Anthonie Tonnon with custom material written for the show, historical letters to the editor, and meticulous notes on the railway systems of New Zealand.
The show also travels with an exhibition of historic NZ Rail advertising department posters and schematic maps, blown up to large scale.
In its first two summers, audiences took trains to reach each show. At selected locations on this new, Arts on Tour edition of Rail Land, audiences are welcomed to join Anthonie for special public transport journeys at selected locations.
For more information about Rail Land, previous press and video
www.anthonietonnon.com/railland
View videos for Anthonie Tonnon HERE
Tour details HERE
---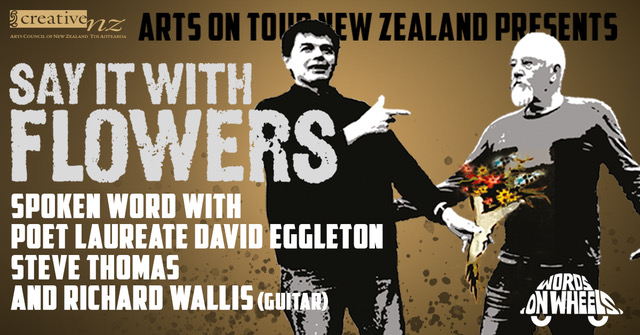 Touring in November
SAY IT WITH FLOWERS
A tour of top wordsmiths and storytellers is underway this November, with Arts on Tour NZ, across Te Waipounamu. Poet Laureate of Aotearoa David Eggleton, the King of Kiwiana and Welsh Kiwi storyteller, the former Bard of Christchurch on RNZ, Steve Thomas, accompanied by master musician Richard Wallis.
---
We are grateful to our sponsors for their continued support.

---
Arts On Tour NZ is a community-focused agency with a high level of professional expertise and a wealth of experience. We are the pre-eminent touring agency to rural and outlying centres in New Zealand. We  provide access to the performing arts for audiences in all three islands (including Stewart Island) by offering an annual selection (Menu 2021) of top-quality performers, promotional material, guidance and tour management to local presenters.
We have closed off for taking bookings for Menu 2021 now.
A PDF version of our 2020 "Menu" is available for download, however, selections are best made through our online Booking Form. We are also happy to receive applications from prospective performers through our Artist's Application Form.
---
AOTNZ is doing a wonderful job of delivering affordable quality NZ theatre into small towns. CMB's audience is rapt! ~ Creative Mercury Bay Whitianga
Michael Hurst never disappoints. It was such a pleasure and privilege to be able to host him again. His performance was superb, in fact it is hard to find words to describe how good it was, and was greatly appreciated by the audience. I have never had so many people come up to tell me how wonderful the show was. On top of this, Michael was so easy to deal with as was Jonothan his support crew. They were also most accommodating of our change of venue – WAI – Westland Arts Inc
I would just like to congratulate you on the fantastic job that you do for Arts on Tour. It is such a great service for small towns like Twizel. ~ Twizel Community Arts Council
Thanks Steve and your team for such a great variety of events. Keep up the good work.  We love this programme of events. ~ Creative Queenstown