Touring in April
Carnivorous Plant Society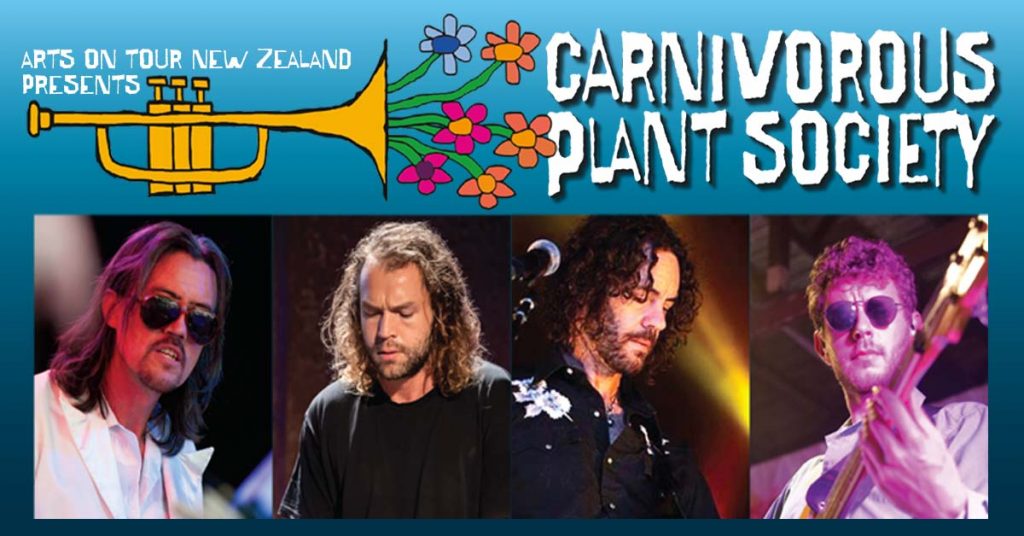 "Wonderful!" – John Campbell, Radio NZ
 "Some serious instrument playing going on!" – Kathryn Ryan, Radio NZ
 "Wonderful bunch of extremely talented musicians… they wowed the audience last night." – 4th Wall theatre
Carnivorous Plant Society are back! Allow New Zealand's favourite psychedelic jazz band to take you on a journey from the streets of Mexico City to the mountains of Asia then straight to the depths of hell!
The talented quartet of four of New Zealand's most accomplished musicians perform their original compositions that will ignite the imaginations of both children and adults alike.  Featuring Finn Scholes, Eric Scholes (Brett Adams replaces Eric from 17/4), Michael Barker and Sean Martin-Buss.
The stories told in the music are echoed visually by hand-drawn animations drawn by band-leader Finn Scholes, who happens to be NZ's best trumpet player (and who also plays tuba, vibraphone, piano, and organ).
Stories of dystopian futures, alien empires and trans-dimensional travel will unfold and your mind is guaranteed to melt.
The Band
Finn Scholes the band leader, has been playing trumpet, keyboards and vibraphone professionally for the last 15 years. He has performed with many great acts including Tiny Ruins, Hopetoun Brown, Lawrence Arabia, Neil Finn, The Rodger Fox Big Band and the Auckland Chamber Orchestra. He is also known for his psychedelic animations and art work.
Eric Scholes is one of New Zealand's top bass players. He studied classical double bass at Baltimore University and has performed several concertos. He is interested in many different musical genres, and has played in the Auckland Philharmonic Orchestra, the Auckland Chamber Orchestra, jazz and rock'n'roll bands and the mighty punk band The DHDFDs.
Brett Adams started his music career In NZ pop sensations, The Mockers, before moving to the UK.  With Dianne Swann, he formed The Julie Dolphin, and they were chosen  as Radiohead's opening act in The Bends tour. Back in NZ, they are now known as The Bads and Brett has become an in demand guitarist, playing with artists such as Tim Finn, Rodriguez, The Exponents and Tami Neilson.
Michael Barker has been one of Melbourne's top session drummers and percussionists for much of his professional career. There he played with many famous groups including Tim Finn, Neil Finn and the John Butler Trio. On his return to New Zealand he formed the band Swamp Thing, which took the country by storm. His skills on the drums, congas, vibraphone and marimba are not to be missed.
Sean Martin-Buss is a Tāmaki Makaurau based multi-instrumentalist who has performed with a wide variety of groups – most notably Scuba Diva, The Beths, Hans Pucket, Dead Little Penny, Blackbird Ensemble, and Creme Jean. Sean specialises in improvisational/experimental music as well as jazz and good old fashioned rock 'n' roll but owes it all to his roots in classical piano & AC/DC guitar solos.
Touring in May
Brave Caitlin Smith's Imaginary Band

"…a voice that imagination created" – Mike Alexander
 Brave Caitlin Smith's Imaginary Band will be touring, Caitlin Smith (piano and vocals), Mark Laurent (guitar) and Steve Cournane (percussion and cymbals) a dream team performing jazz and folk music.
Caitlin Smith's latest album 'You Have Reached Your Destination' creates a multisensory universe unto itself – Braille and a tactile labyrinth within the cover art, poetry and footsteps recorded between 14 originals.  A mesmerizing, prolific and passionate performer, originals are sandwiched between the tastiest overs, especially the repertoire of her spiritual parents Joni Mitchell and Leonard Cohen.
The Caitlin Smith Trio (and earlier incarnation The Fondue Set) have held down well-loved residencies in Auckland for over two decades.  2021 marks the release of a collaboration/CD with the Auckland Jazz Orchestra 'East of the Sun'.  Caitlin Smith's tour in 2020 with ARO was Covid interrupted so Caitlin Smith is delighted to be able to return.
The Band
 Caitlin Smith is a mesmerising performer, song-poet and story singer. Legally blind since birth, she is a tireless advocate for accessibility issues and the healing and transformative power of creativity.
A vocal and song-writing coach to many of our best known artists, Caitlin Smith combines poetry and music in unforgettable performances that include her original compositions as well as covers penned by her musical heroes.
Mark Laurent has been a professional musician for over 40 years. He plays rock, blues, reggae, alt.country, folk, soul/jazz/gospel, working solo, in bands and duos. He's recorded many albums, written 200 songs, and worked as producer/session musician on numerous projects. He's also an author, with 4 books of poetry published, and an illustrated children's book.
 Steve Cournane is a drummer and composer who began playing with the Alpaca Brothers in Dunedin, in 1984.  Steve won a Tui for NZ Jazz album of the year in 2002 for the album Stereoscope by CLBob. This group released three albums and performed relentlessly around the country over a ten-year period.  In 2007 he moved to Lima, Peru, where he survived as a musician while studying the coastal Afro-Criolla music for another seven years. He moved to Auckland in 2017 and currently plays cajón with Isla Flamenca (with Ian Sinclair) and drum-kit with BOAT and Bill Direen.
---
We are grateful to our sponsors for their continued support.

---
Arts On Tour NZ is a community-focused agency with a high level of professional expertise and a wealth of experience. We are the pre-eminent touring agency to rural and outlying centres in New Zealand. We  provide access to the performing arts for audiences in all three islands (including Stewart Island) by offering an annual selection (Menu 2021) of top-quality performers, promotional material, guidance and tour management to local presenters.
We have closed off for taking bookings for Menu 2021 now.
A PDF version of our 2020 "Menu" is available for download, however, selections are best made through our online Booking Form. We are also happy to receive applications from prospective performers through our Artist's Application Form.
---
AOTNZ is doing a wonderful job of delivering affordable quality NZ theatre into small towns. CMB's audience is rapt! ~ Creative Mercury Bay Whitianga
Michael Hurst never disappoints. It was such a pleasure and privilege to be able to host him again. His performance was superb, in fact it is hard to find words to describe how good it was, and was greatly appreciated by the audience. I have never had so many people come up to tell me how wonderful the show was. On top of this, Michael was so easy to deal with as was Jonothan his support crew. They were also most accommodating of our change of venue – WAI – Westland Arts Inc
I would just like to congratulate you on the fantastic job that you do for Arts on Tour. It is such a great service for small towns like Twizel. ~ Twizel Community Arts Council
Thanks Steve and your team for such a great variety of events. Keep up the good work.  We love this programme of events. ~ Creative Queenstown