Arts on Tour NZ
New Zealand is in the Orange Light setting of the Covid-19 Protection Framework. This means:
Events and Public Facilities at Orange
Events can go ahead and public facilities can open at Orange
Key points
• Controlled-access events can go ahead.
• Public facilities can open.
• There are no limits to how many people can attend an event or public facility.
• You must wear a face mask indoors at public facilities, except swimming pools.
• You do not need to wear a face mask at an event, either indoors or outdoors.
Arts on Tour will continue to tour under this Protection Framework.
TOURING IN  AUGUST 2022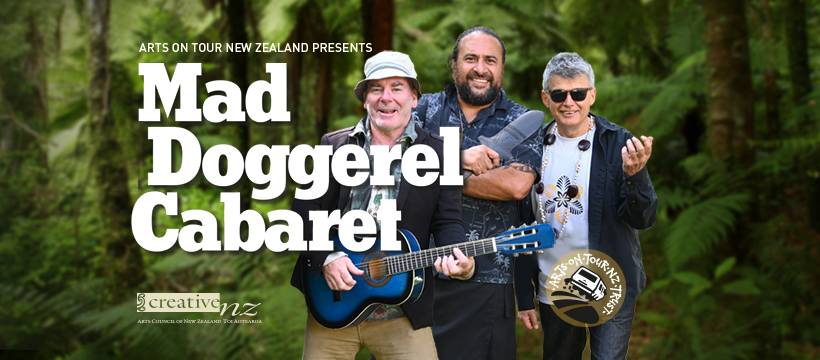 Two poets and a musician combine to present a comic and lyric portrait of Aotearoa New Zealand and its place in the South Pacific today. Their Mad Doggerel poetry cabaret is full of cascading words, wild musicality and lightning humour.
This entertaining show will bring three nationally-eminent artists to halls and venues throughout Aotearoa New Zealand, including a National Poetry Day performance at the National Library in Wellington on Friday 26 August.
David Eggleton, the current Poet Laureate of Aotearoa 2019 – 2022, has been described by reviewers as a a jazz-bop-beatnik poet 'whose poems never cease to amaze and astound in their creativity … in performance he is no longer just a poet but a ranter, a raver, a conjuror … his poetry spirals into today's world from a Polynesian heritage'.
David Eggleton, an acclaimed writer, has received just about every literary award for poetry it is possible to receive in New Zealand, from the Prime Minister's Award for Excellence in Poetry in 2016 to PEN NZ Best First Book of Poems in 1987. Overseas, amongst other events, he has taken part in the Poetry Olympics and the Ranters' Cup Final, winning Street Entertainer of the Year for Poetry at the London Convent Garden Festival.
Daren Kamali was a co-founder of the South Auckland Poets' Collective in 2008, an organisation aimed at encouraging young Pacific poets to tell their stories. An accomplished performance poet, as well as a musician, Daren Kamali has travelled the world presenting poems based on Polynesian and Pasifika legends and his own life story. Daren has a Master of Creative Writing with First Class Honours from the University of Auckland (2017).  He has released two albums of his poetry set to music using a mix of traditional and rock music instruments.
Richard Wallis is a Dunedin-based classical guitarist. As a soundscape musician he has worked extensively with David Eggleton in producing music and video recordings.
TOURING IN  September 2022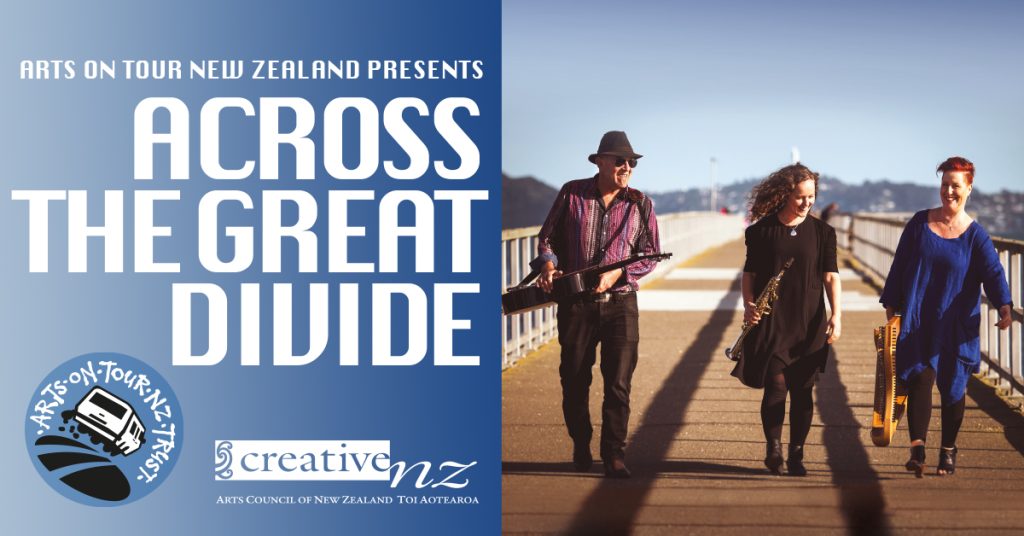 "You guys were 'otherworldly' last night and no one has ever had a standing ovation after all our years of putting on house concerts. You guys have something really special going on" – Brenda Shearer, singer songwriter artist
"You can imagine they would hush any folk club, or bring it to its dancing feet" – Graham Reid, Elsewhere
World music in a true folk roots fusion.
Acoustic Americana meets Celtic Spirit!
Prepare you dancing feet, vocal chords and heart! Here come Across the Great Divide, featuring traditional, contemporary and original songs and tunes from Celtic and Americana roots.
Karen's fiery accompaniments matches her blisteringly paced, guitar fuelled jigs and reels as Tony adds his relaxed dobro harmonies to add depth and splashes of musical colour and Hanna fills you with delicious unworldly vibration. Before you've caught your breath, they shift gear into a gentle Celtic air on the harp – and then the soft Scots burr of Karen's voice breathes life into an achingly beautiful traditional song as Tony adds sensitive counter harmonies on the dobro.
Almost unknowingly you are drawn into and welcomed to their special Transatlantic musical world. Original and traditional tunes and airs; Americana original compositions all receive the same skill and passion in their delivery until you are no longer aware of their different musical roots, nor any divide at all. Only their infectious sounds.
An Across The Great Divide concert isn't a quiet affair. Strap yourself in for a wild, toe tapping and emotionally laden journey, perfectly held together by their passion for their traditions.
https://www.acrossthegreatdivide.website/videos
---

---
Arts On Tour NZ is a community-focused agency with a high level of professional expertise and a wealth of experience. We are the pre-eminent touring agency to rural and outlying centres in New Zealand. We  provide access to the performing arts for audiences in all three islands (including Stewart Island) by offering an annual selection (Menu 2023) of top-quality performers, promotional material, guidance and tour management to local presenters.
Bookings for Menu 2023 have now opened.  Please make your selections and submit the Booking Form  by Friday 2 September 2022.
A PDF version of our 2023 "Menu" is available for download (Menu). 
We are also happy to receive applications from prospective performers through our Artist's Application Form.
---
AOTNZ is doing a wonderful job of delivering affordable quality NZ theatre into small towns. CMB's audience is rapt! ~ Creative Mercury Bay Whitianga
Michael Hurst never disappoints. It was such a pleasure and privilege to be able to host him again. His performance was superb, in fact it is hard to find words to describe how good it was, and was greatly appreciated by the audience. I have never had so many people come up to tell me how wonderful the show was. On top of this, Michael was so easy to deal with as was Jonothan his support crew. They were also most accommodating of our change of venue – WAI – Westland Arts Inc
I would just like to congratulate you on the fantastic job that you do for Arts on Tour. It is such a great service for small towns like Twizel. ~ Twizel Community Arts Council
Thanks Steve and your team for such a great variety of events. Keep up the good work.  We love this programme of events. ~ Creative Queenstown