New Zealand's back into the Red Light setting of the Covid-19 Protection Framework. This means:
• Record keeping/scanning required
• Limit of 100 people attending events
• 1m distancing seated and separated
• Proof of vaccination required
• Mask wearing encouraged
Arts on Tour will continue to tour under this Protection Framework.
TOURING IN FEBRUARY 2022
Mundi Trio – with Ricardo Stuani, Chris Dabinett and Tamara Smith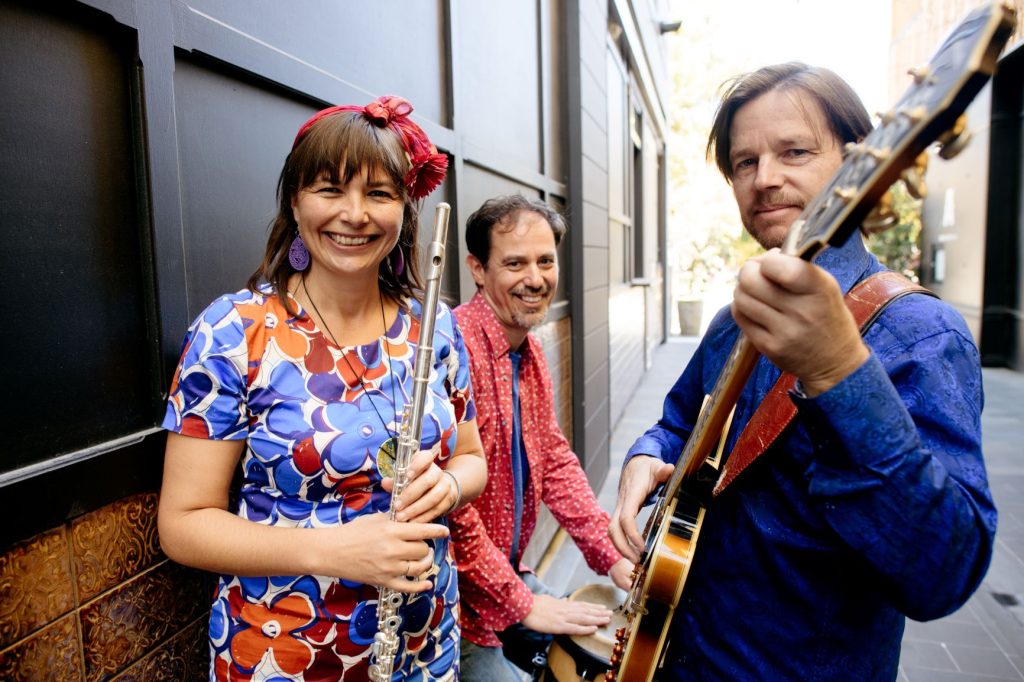 Prepare to be transported! Mundi Trio comprises Brazilian percussionist Ricardo Stuani, guitarist Chris Dabinett and flautist, vocalist, and composer Tamara Smith. Mundi's music exudes joy and passion – taking you on a journey filled with global colours, grooves and influences.
They have performed at numerous festivals and the trio members were chosen to perform an original item on the banks of Avon/Ōtākaro River with Yo-Yo Ma and Marlon Williams as part of Yo-Yo Ma's Bach Project.
Tamara Smith grew up in rural North Canterbury and trained in classical flute before training in jazz at the Christchurch Jazz School.
Chris Dabinett graduated from Wellington Massey University in Jazz Studies and has had numerous years of guitar playing experience.
Ricardo Stuani is a percussionist. He has a Bachelor in Percussion and a Masters in Music from the University of Sao Paulo. After graduating, he moved to Europe where he studied jazz performance at the Rotterdam Conservatorium in Holland.
TOURING IN MARCH 2022 
The Aplaca Social Club with special guest Cousin Alice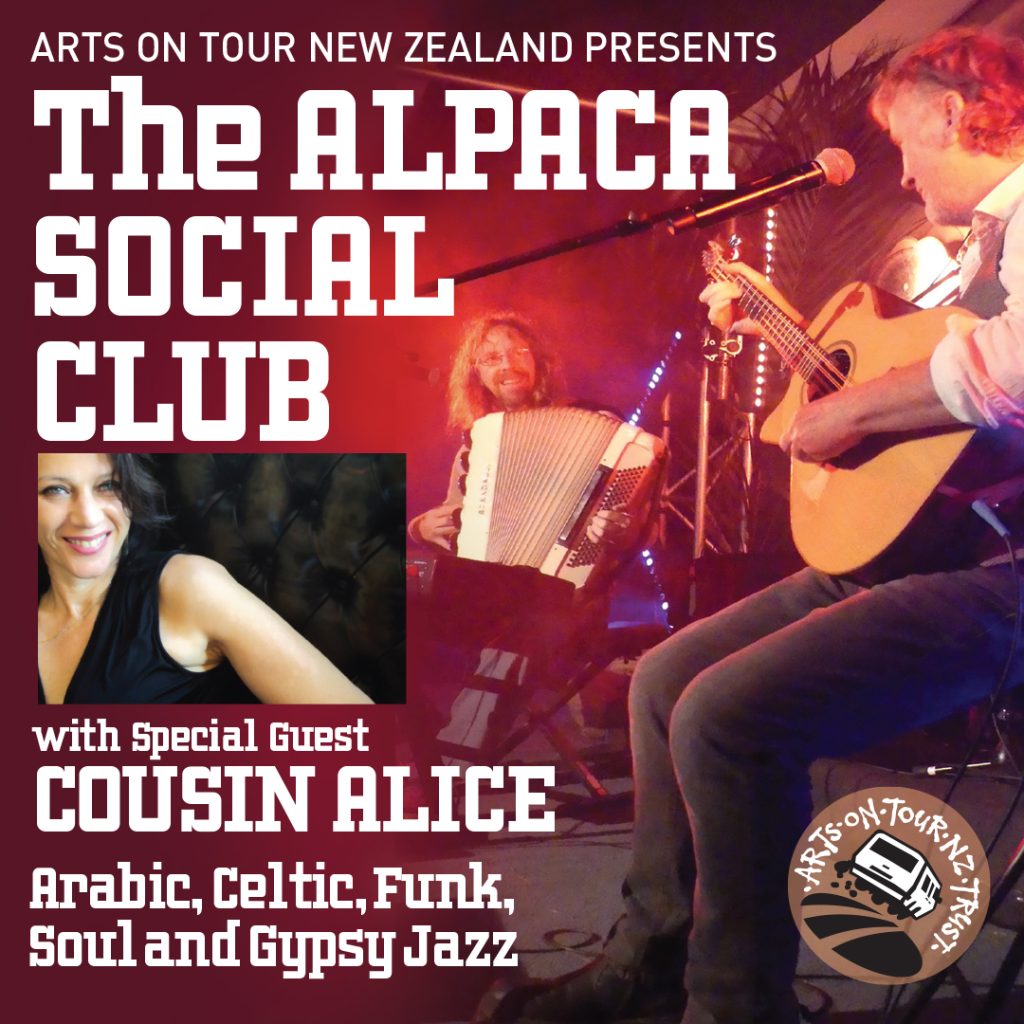 The Alpaca Social Club plays fresh sounds from exotic lands. The music has a flavour of Arabic, Celtic, funk, soul and gypsy jazz cultures. The two musicians at its core are pianist and accordionist Craig Denham and bassouki player and guitarist Jon Sanders. Fans describe their live show as "a pyrotechnic display of dazzling virtuosity" and "a quantum leaping musical curiosity".
Cousin Alice creates a completely unique sound, gritty, sweet, and heartfelt, delivered with a shot or two of humour. Her voice has been likened by one listener to "a cross between Tom Waits, Peggy Lee and Marianne Faithfull." Alice seduces audiences with her smoky voice. It's a musical marriage to behold.
Alpaca Social Club have brought their own unique take to Alice's music on and off for years now performing together when they have happened to find themselves in the same city or festival.
---
We are grateful to our sponsors for their continued support.


---
Arts On Tour NZ is a community-focused agency with a high level of professional expertise and a wealth of experience. We are the pre-eminent touring agency to rural and outlying centres in New Zealand. We  provide access to the performing arts for audiences in all three islands (including Stewart Island) by offering an annual selection (Menu 2022) of top-quality performers, promotional material, guidance and tour management to local presenters.
Bookings for Menu 2022 have now closed.  Thank you for your selections and your submitted Booking Form which have been received by Friday 3 September 2021.
A PDF version of our 2022 "Menu" is available for download (Menu ), however, selections are best made through our online Booking Form. We are also happy to receive applications from prospective performers through our Artist's Application Form.
---
AOTNZ is doing a wonderful job of delivering affordable quality NZ theatre into small towns. CMB's audience is rapt! ~ Creative Mercury Bay Whitianga
Michael Hurst never disappoints. It was such a pleasure and privilege to be able to host him again. His performance was superb, in fact it is hard to find words to describe how good it was, and was greatly appreciated by the audience. I have never had so many people come up to tell me how wonderful the show was. On top of this, Michael was so easy to deal with as was Jonothan his support crew. They were also most accommodating of our change of venue – WAI – Westland Arts Inc
I would just like to congratulate you on the fantastic job that you do for Arts on Tour. It is such a great service for small towns like Twizel. ~ Twizel Community Arts Council
Thanks Steve and your team for such a great variety of events. Keep up the good work.  We love this programme of events. ~ Creative Queenstown